At Wolfe Automotive Group, we have launched our "Helping Hands" Concierge Service in Edmonton, Calgary & Canmore.
---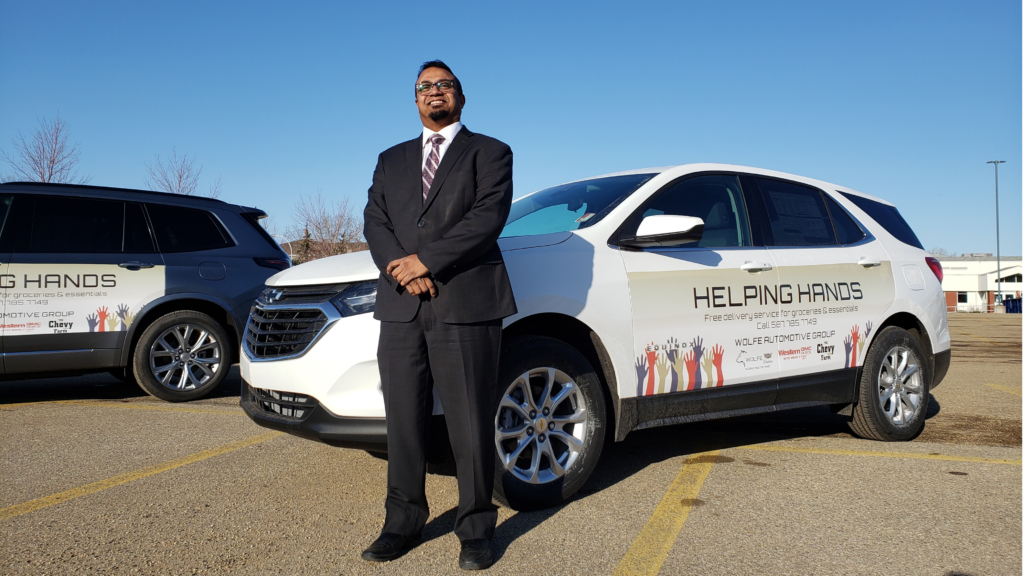 HELPING OUR COMMUNITY
Our world changes dramatically daily as we navigate COVID-19 together as a community. We are noticing that some grocery chains delivery wait times are overloaded and they are working hard in the delivery of groceries and other essentials to people in our community, especially seniors. Wolfe Automotive Group with our "Helping Hands" program, can offer our senior citizens assistance with getting their groceries and essentials delivered.
General Sales Manager Ravi Coomar with the Westgate Helping Hands Equinox
How can Wolfe Automotive Group help our Senior Citizens?
We have five automotive dealerships across Alberta including three in Edmonton. Wolfe Cadillac, Western GMC Buick & Westgate Chevrolet. One in Calgary, GSL GM City and the fifth store Wolfe Chevrolet GMC Buick Canmore, located in Canmore Alberta.

Each of our locations has a team in place to assist our seniors in the collection of a pre-ordered grocery pickup with the grocery store they have an order placed at.

It's as simple as providing us with your confirmation email with the digital receipt, order name and number and the specified grocery store pickup time. Our team will go to the store and collect your order and deliver it by organizing a contact-free delivery.

Be assured that our team will wear disposable gloves while handling the bags for your order as well as we are sanitizing our delivery vehicle before groceries are picked up, and after they are delivered.
The Process:
Contact one of our dealerships closest to you.
Order your groceries online with a grocery store of your choice that has a grocery pick up option.
Place your order and forward the digital receipt and contact information to our Helping Hands Concierge member to set up and schedule a contact-free delivery for your order.
At your scheduled pick-up time, our team members will collect your groceries and safely deliver them to your residence while maintaining the physical distancing measures set out by Alberta Health Services.
For more information please feel free to contact our team members using the contact information below.
---
EDMONTON LOCATIONS
Western GMC Buick – 18520 – Stony Plain Road NW – Phone: 780-486-3333
Westgate Chevrolet (The Chevy Farm) - 10145 - 178 Street NW – Phone: 780-483-3320
Wolfe Cadillac – 17820 – Stony Plain Road NW – Phone: 780-482-5771
CALGARY LOCATION
GSL GM City - 1720 Bow Trail SW - Phone: 403-781-1540
CANMORE LOCATION
Wolfe Chevrolet GMC Buick Canmore - 707 Railway Avenue - Phone: 403-678-4222