FLEET AND COMMERCIAL
When you're an expert in your field, you know the meaning of hard work. As a Chevrolet Business Elite Dealer, we do too. It's more than simply selling you a vehicle; it's taking the time to get to know your business to help you find the right vehicle for your needs. More than that, it's about remaining a partner throughout the life cycle of your fleet. Not every GM Dealer is a Business Elite Dealer, but at Wolfe Chevrolet, we are proud to say that we are. Your Priority is Business, Our Priority is YOU.
BUSINESS ELITE BENEFITS
GARY BALL FLEET/LEASE MANAGER
Gary Ball and his team are our GM Fleet and Commercial vehicle experts here at Wolfe Chevrolet in Edmonton. They are not only qualified to find the best combination of incentives and discounts for their retail customers, they also have the experience and expertise to assist businesses of all sizes in the planning and acquisition of their commercial vehicle fleet. From the smallest of businesses to the largest corporations, they can assist with making the right transportation decisions.
Email Me
LES FINNIGAN FLEET COMMERCIAL SALES MANAGER
It has been my pleasure to represent GM Cars and Trucks in the metro Edmonton area since July of 1986. My automotive experience consists of (4) years as a Retail Salesperson, (14) years as a New Vehicle Sales Manager, (2) years as a General Sales Manager, and (2) years as a Dealership General Manager. However, since October of 2007, I have been lucky enough to become a "GM Elite Gold Level" Fleet and Commercial Sales Manager.
Email Me
WAYNE WOOD LEAD SERVICE ADVISOR
Wayne Wood is our dedicated Service Advisor for our Buiness Elite customers. He ensures that our specialized facilities and extended hours keep you and your business moving.
Email Me
WORK READY INVENTORY
At Wolfe Chevrolet we keep an inventory of Work Ready vehicles on hand and ready to go at a moments notice. Upgrading or expanding your fleet? Replacing that worn out unit that no longer represents your business in the best light? No worries, we have you covered!
View Inventory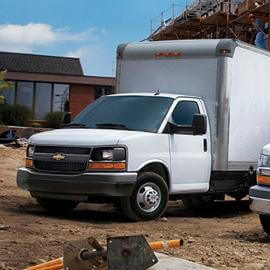 WORK READY LOANERS
Stay on task with loaner vehicles delivered right to your job site if need be. It's just another way the Business Elite team here at Wolfe Chevrolet keeps you moving.
Schedule Service
VAN UPFITS
Adrian Steel ® van upfits now feature the new AD series shelving! AD series shelving features truly adjustable shelves, the ability to easily add accessories and an adaptable rail system that lets you re-position your shelving. The AD series, for the way you work!
Contact Us
This upfit option gives you $700 Commercial Upfit Cash Credit toward your eligible vehicle purchase or lease. All you need to do is install a comparable amount of eligible commercial upfits. Plus, any upfit to an eligible vehicle is allowed (including but not limited to parts, accessories, electronics, wheels, tires, paint, transfer of upfit from another vehicle) with the following three exclusions : -Upfits available as Regular Production Options (RPOs) -Alternative fuel conversions -Motor home conversions A minimum of $700 on eligible upfit equipment must be installed to be eligible for the $700 reimbursement. The $700 cash back amount is inclusive of parts, labour and taxes.* Option 2 is available with all 2017/2018 model year eligible Chevrolet Business Choice Program vehicles.
With $750 in GM Accessories* (including parts, labour and taxes) you can enhance the design, functionality and capability of an eligible Chevrolet vehicle. GM Accessories are tested and proven to be fully compatible with your GM vehicle and they're also backed by GM's comprehensive warranties. Make a great investment with some help from the Business Choice Program. Visit your local Chevrolet or GMC dealer and ask about all the vehicle-applicable GM Accessories that best fit your needs. See program details for complete list. GM ACCESSORIES ARE AVAILABLE ON THE FOLLOWING ELIGIBLE VEHICLES: 2017/2018 MODEL YEAR TRUCKS: -Chevrolet Silverado Pickup -Chevrolet Colorado 2017/2018 MODEL YEAR VANS: -Chevrolet Express Cargo -Chevrolet Express Passenger -Chevrolet Express Commercial Cutaway -Chevrolet City Express
If you're interested in adding to your fleet of hard-working vehicles, then a $500 manufacturer-to-consumer cash incentive might be exactly what you need. Here's how it works. When you purchase a new 2017/2018 model year eligible Business Choice Program vehicle of your choice, a $500 cash incentive is put towards your vehicle purchase price by your dealer on behalf of GM. It's really that simple. Please note, this $500 cash incentive is "tax inclusive". Option 4 is available with all 2017/2018 model year eligible Business Choice Program vehicles. See program details for complete list.
Program Details
The Business Choice program is available with eligible 2017 Chevrolet vehicles. See the full list of eligible vehicles in the chart. To qualify for the program, you must: -Provide your Fleet Account Number (FAN). If you don't have one, it's easy to sign up for it. Here's how: Visit Wolfe Chevrolet and speak with Gary's team who will assist you in completing a FAN Enrollment Form. -Provide proof of a minimum of five vehicles registered in the company name or owner/operator name or place an order for three or more new eligible GM vehicles at one time for day-to-day business purposes. -Examples of eligible businesses include, but are not limited to: electricians, plumbers, landscapers, construction contractors and farmers. Contact us for eligibility details. -Customers who operate a business in Canada and have a registered Business Number (BN or GST number) with the Government of Canada are eligible for the Business Choice Program.